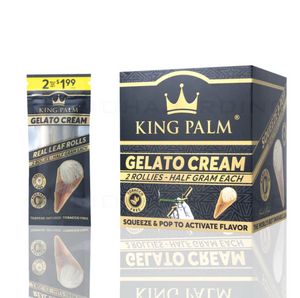 King Palm™ Natural Leaf Rollies Blunt Wraps Gelato Cream
King Palm Mini Rolls are real, natural leaf rolls that are individually handmade, handpicked and cleaned with purified water. These slow-burning Watermelon Wave Mini Rolls are terpene infused and tobacco-free, and each roll holds up to 1 gram.
Enclosed with a 62% Boveda 2-Way Humidity Control Pack, King Palm guarantees one year of product freshness.
2 Mini Pre-Rolls per Pouch
Leaf Length: 85mm
Leaf Color: Natural Green Leaf
Packing Stick
100% Real Palm Leaf
Organic, Non-GMO Corn Husk Filter
Tobacco & Chemical Free
Slow Burning