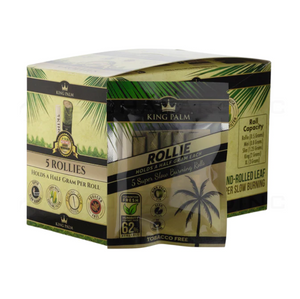 King Palm™
Rollies are the smallest size of wraps that King Palm offers, and hold approximately 0.5g of herb. The leaves used to create these are handpicked from the flowering tree of the Cordia family, the original palm blunts.
Each leaf is hand-rolled with a pre-installed natural corn husk filter. King Palm wraps are tobacco free, and do not contain extra chemicals, preservatives, artificial flavoring, GMOs or glue making them a high quality and clean product for rolling blunts.
Order wholesale today with Biohazard Inc and add this retail display of natural leaf wraps to your smoke shop or dispensary!
• Units Per Box: 15
• Wraps Per Unit: 5
• Brand: King Palm
• Size: Rollie